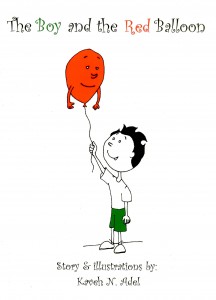 Finally after more than four months of hard work and one night's inspiration while driving back from Iowa based on Kian's experience with a Balloon, the book is published. I am so thankful that I had the support of so many beautiful people behind me. I will give them proper credit very soon. But today's post is simple:
Insipiration can be like a lightning bolt…… It hits……you have two choices……..
1. Get hit by it and fry!
2. Or Harness it and turn it into a positive force.
I think of that cold night driving back from Iowa while the boys were watching "Finding Nemo" in the back and Semira talking to me to keep me awake in her usual loving way, always concerned and supportive. Suddenly, I was hit with that lightning bolt.
That night I wrote the book in 1 hour. Maybe the triple shot of espresso I had helped too!!!!

Now , the result is here. I am proud of it because it is from the heart. I hope anyone who reads it will feel something. And, if it does not, I will be grateful that I touched maybe one or two people, hopefully in a positive way. The lighting bolt is harnessed into a positive force.
In fact, I am honored to donate some of the proceeds from the book to two charities that are near and dear to my heart, first: Make a Wish foundation and second: Autism Speaks. You can be assured that reading this book may even grant a wish to a child in need or help (in a minute way) pave the way to heal another.
My best wishes to everyone who has dream and oh yes….. I almost forgot… here is the link to purchase the book:
******GET the BOOK HERE*******

I wish for all of you to have unconditional Love, health and prosperity always,
Kaveh Adel
RSS feed for comments on this post. TrackBack URI